A FILM EXPLORING THE REAL COST OF PRIVATIZING
AMERICA'S PUBLIC SCHOOLS
"Everyone who values democratic education needs to see this."
"A heartbreaking account of massive educational theft."
"This film tells a cautionary tale that is real. It's present."
BACKPACK
FULL OF
CASH
NARRATED BY MATT DAMON
Host a
"Backpack"
screening
Join the more than 3,000 groups and individuals from around the U.S.—and the globe—who have contacted us about screenings! Click below to find out how you can bring the film to your community.

LEARN MORE »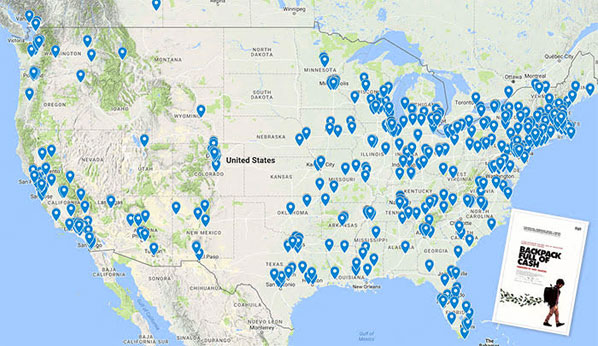 ABOUT THE FILM
Narrated by Matt Damon, this feature-length documentary explores the growing privatization of public schools and the resulting impact on America's most vulnerable children. Filmed in Philadelphia, New Orleans, Nashville and other cities, BACKPACK FULL OF CASH takes viewers through the tumultuous 2013-14 school year, exposing the world of corporate-driven education "reform" where public education -- starved of resources -- hangs in the balance.

GET INVOLVED
In many places, public education is at a tipping point. Leaders in Washington are calling for a massive increase in funds to expand privately-run charter schools and vouchers. Now is the time to join the movement to stop privatization and strengthen public schools.
HOST A SCREENING
Consider hosting a screening in your community. Film can be a formidable tool for bringing people together, sparking discussion and driving change.
LEARN MORE »
EXPLORE ISSUES
Connect with groups working to support and strengthen public schools that serve all students equitably. Learn more about the issues involved.
LEARN MORE »
DONATE
BACKPACK can spark discussions and pave the way for meaningful change. Help fuel our nationwide community engagement campaign!
LEARN MORE »
THOUGHT LEADERS
Here are some of the individuals who were interviewed for BACKPACK FULL OF CASH, and whose impressive work we drew upon in making our documentary film.
VIEW ALL »
NARRATOR
MATT DAMON
Matt Damon is an Academy-Award winning actor, film producer and screenwriter. He is also an advocate for public schools. Matt's mother, Dr. Nancy Carlsson-Paige, is an expert on early childhood development and author whose books include Taking Back Childhood: A Proven Roadmap for Raising Confident, Creative, and Compassionate Kids.
"I got involved in BACKPACK FULL OF CASH because I believe that every kid should have access to great public schools. I got a great education in public schools and my mom is an educator so I know just how hard teachers work every day."
UPCOMING SCREENINGS
Check to see if there is a screening near you. If not, click here to find out how you can host a screening and bring BACKPACK to your community.


08/31/2019

August 31, 2019. 11:00am-2:00pm Berwyn Public Library, 2701 S....

09/07/2019

September 7, 2019 at 7 pm Calgary Public Library - Central location...

09/09/2019

September 9, 2019 7:00pm Medicine Hat Public Library Address: 414...

09/26/2019

Thursday, Sept. 26, 2019 at 6:00pm Gretchen Nelson Scott Fine Arts...

10/04/2019

Friday, October 4, 2019 Haley Center 2100 Haley Center Auburn,...
STAY CONNECTED
People working together are the best force for change.
Sign up here for useful updates, helpful suggestions, and great resources for strengthening public education in your community.